There is a wide variety of Canvas Tote Bags available.  Due to this, it is often difficult to determine what would be the best custom tote bag required for your business.  This varies according to the needs of the users who would be using your custom tote bags and which style would be most convenient for their needs.  Tote Bags are customized according to size, dimension of the bag, number of pockets required, and if there are any zips required on the tote bag itself.  This blog will be a good guide to help you filter down to the best custom tote bag which would be a good fit for your business.
Flat Tote Bag
A flat tote bag is one of the most common types of tote bags used in the market.  These tote bags come without any side or base gusset supported with long handles.  Mostly made in size 14-inch-wide x 15-inch height dimensions.  These bags are useful for events, trade shows,  or bookshops.  They are intended for small items such as books and brochures and are limited in space.  These are one of the most demanded tote bags as they are widely used by consumers and is an ideal tote bags for promotional campaigns.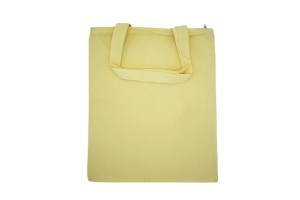 Canvas Boat Tote Bag
The Canvas Boat Bag is wider than height and comes with a reasonable base gusset.  These Boat Bags are custom-made as per the requirement of the business.  They can be supported with an inside zipper pocket or outside zipper pocket.  The main compartment of the bag can be supported with a main zip.  The zip color, slider, and other accessories are recommended by the buyer.  The ideal size for a canvas boat bag is 17-inch-wide x 14-inch height x with a 5-inch base gusset.  These tote bags and dimensions are best suited for a beach bag or a fashion handbag.  They are also widely used as promotional bags.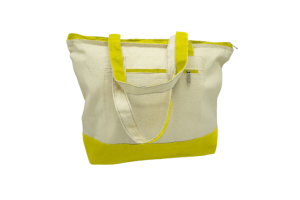 Canvas Jumbo Tote Bag
A Jumbo Canvas Tote bag comes with massive dimensions, mostly without pockets.  These tote bags are highly demanded by grocery stores.  They come with a large base and side gusset to make room for enough space for bulk grocery items.  However,  they may be used for multiple occasions where you want to utilize some serious space for getting around.  The ideal dimensions for these bags are 15 inches wide x 17 inches height with a 7-inch base gusset.  These canvas bags can easily pick up a full bag of groceries weighing up to 50 lbs.
Cross Body Tote Bag
A cross-body Tote Bag usually also comes with a side gusset and base gusset or may be made without a gusset entirely dependent on the needs of the user.  What differentiates these tote bags from other tote bags Is that it comes with a thick shoulder handle in addition to the normal tote bag handles.  The extra handle can be used to hold the tote bag on one shoulder like a messenger or laptop bag or can be used worn over the neck on the opposite shoulder to be on the go.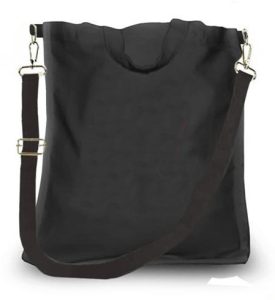 Concluding Remarks
The type of tote bag largely depends on how you would like to uplift your brand and what is demanded by the users of the tote bag whom you wish to target.  Pack Point International is a custom tote bag manufacturer that is on call to custom-make the perfect tote bag for your business.  Each tote bag we make caters to the specific needs of businesses.  If your users tend to hang out more on the beach,then a canvas boat bag supported with multiple pockets and a larger width is just perfect for a day out at the beach.  If the users require a sold long-lasting specifically for grocery purposes,then the canvas jumbo tote bag has the perfect spacious features to make it the best grocery bag.